This year's edition of our "Future Digital Business Network" joint event with VP-Bank and magility focused on the upcoming challenges for companies. Entrepreneurs from every corner of Baden Württemberg joined each other for a business lunch at Bischoff's DEKRA Club Restaurant to share ideas on current topics. With several short impulse presentations from speakers at the table, everyone was brought up to speed on relevant themes, allowing plenty of input for discussion. It was also the perfect opportunity for the participants to extend their business network. 
Megatrends in the automotive industry
Dr. Michael Müller our managing partner and CEO of Magility focused on the automotive industry emphasizing which topics and challenges companies will be faced with in the next years. During his talk, he gave the participants a clear overview of the megatrends in the automotive industry 2023. 
OEM transformation from pure vehicle manufacturer to software company

Vehicle development towards software-defined vehicles with use in automated driving, for applications with artificial intelligence or connectivity

Lifecycle management – development of various diagnostics as a service

Transition to smart factories

Challenge of charging infrastructure for EV manufacturers

New requirements for battery management – with increasing sales and use of EVs

Vertical integration in EV production

Sustainability in product lifecycle – ESG issues become essential

Economic perspectives
Dr. Thomas Gitzel, Chief Economist and Vice President of VP Bank provided an outlook on the longer-term economic perspective. Interest rates, especially in the real estate markets, have risen sharply in recent months, and the inflation rate in the eurozone is still high, despite the current slight decline in fuel and food prices. Despite the economic situation, which at a glance does not appear too bright, Dr. Thomas Gitzel drew a very positive picture for the future with continued quite certain possibilities for stable earnings in the long term. For him, it is clear that without strong investments and innovations, things will not work. We need this for growth and employment. And that is a good thing. 
An ESG management system will be crucial to success
With new EU guidelines on ESG reporting, companies are required to actively take measures in the areas of environmental (E), social (S) and governance (G) and report on them. Establishing an ESG management system within the company will be critical to the success of companies in the future. Dr. René Schellenberger, our Managing Partner and COO of Magility compared establishing an ESG management system in a company to a Swiss Army knife. Just as the Swiss Army knife can be unfolded to provide a wide variety of functions in just one tool, an ESG management system is a multifunctional tool that must be established in the company step by step. 
ESG requirements from top management: Management must create awareness for ESG and define the individual areas of application as well as the objectives. It makes sense to align the business strategy with the SDGs (Sustainable Development Goals).

ESG organization: Establish ESG organizational structure, define roles, responsibilities and processes

ESG risk and opportunity management: systematic and holistic approach to identifying and assessing ESG risks

ESG program: create ESG roadmap and define measures to mitigate ESG risks

ESG qualification and communication: inform and train employees on ESG issues

ESG implementation: Implement ESG measures and ESG project management

ESG effectiveness monitoring: monitoring of effectiveness and efficiency of the ESG management system and continuous improvement as well as reporting to top management

ESG audit and rating: Independent (preferably external) effectiveness monitoring of the ESG management system by rating agency(ies)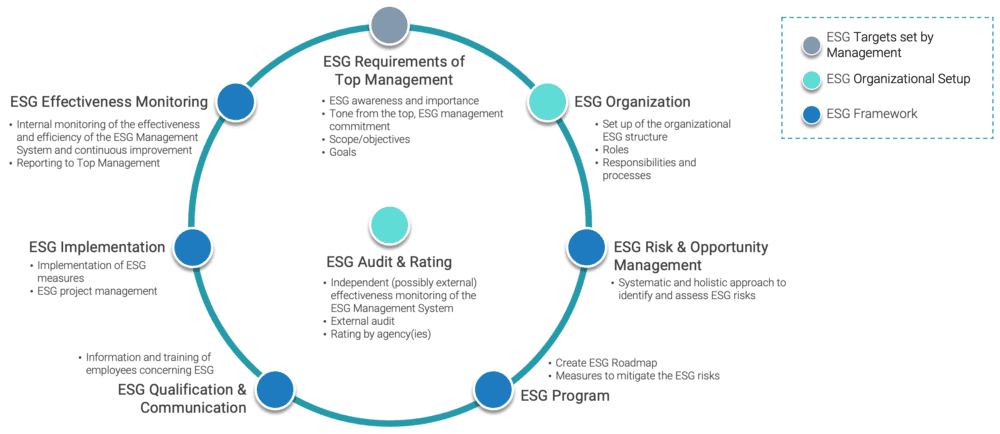 Last but not least, the culinary delights exceeded their expectations, thanks to the first-class menu. We are already looking forward to next year's edition with exciting topics, lively discussions and further news from the entrepreneurial world of Baden-Württemberg. 
Feel free to follow us on LinkedIn. If you are an entrepreneur from BW and interested in participating in our networking event "Future Digital Business Network" next year, please feel free to contact our CMO Nada Lea Welker. Are you planning ESG activities in your company? We at magility are happy to help.