The automotive industry is in a constant state of transformation due to the constant evolution of existing technologies and innovations, as well as new ones being added. In recent years, autonomous driving capabilities and many other vehicle and software features designed to make our roads safer and traffic more efficient have evolved more rapidly than in several decades prior. Along with this rapid change comes a number of new trends emerging in the industry. In this article, we at Magility GmbH summarize what is currently going on in the automotive industry and which megatrends you will encounter in the future.
At a glance
China is the world's largest automotive market; sales of electric vehicles doubled in 2021
UN regulations on emissions and automotive cyber security are already partly active or will soon come into force in many countries
Technologies and trends that were once dreams of the future are already significantly shaping activities in the automotive industry – including convergence, autonomous driving and e-drives, 3D printing, new battery technologies, among others
Magility identifies eight megatrends that will significantly shape the activities and future of the automotive industry in the coming years
Interesting data and facts
China is currently the largest car market in the world: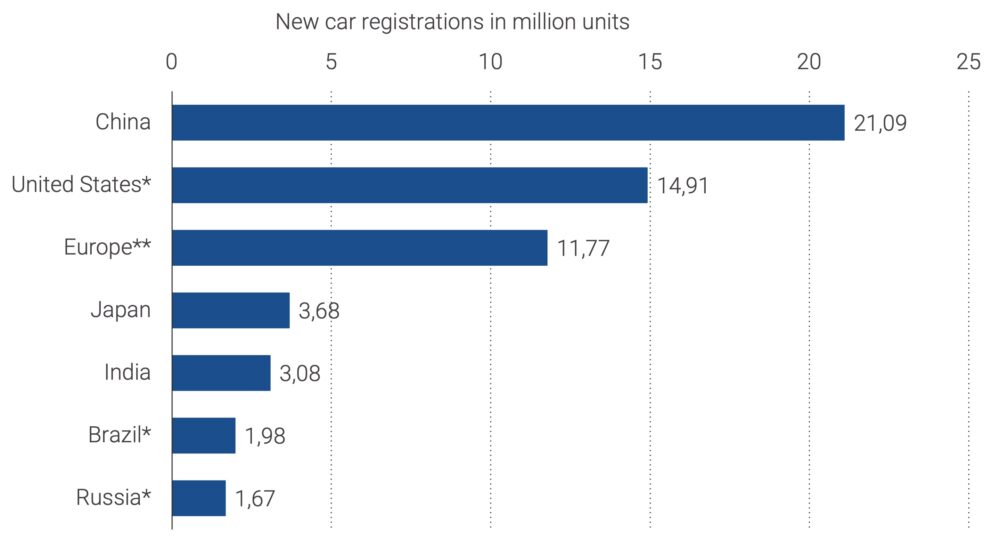 Source: Statista – Largest automotive markets worldwide in 2021, based on new registrations (in millions)
The global market for autonomous vehicles reached a size of nearly

US$106 billion

in 2021. This market is forecast to reach a size of over 2.3 trillion US dollars in 2030 

In the first quarter of 2019,

61.88%

of car buyers opted for a used car 

In 2021, nearly

15 million cars

were sold in America 

Toyota Motor generated nearly $250 billion in revenue in 2020 

Tesla broke record by delivering over

936,172

electric vehicles in 2021
UN regulations leave a lasting mark on the automotive industry 
As the automotive industry continues to grow, it is becoming increasingly important to consider its impact on the environment. For this reason, many countries, as well as automakers including General Motors and BMW, support Tesla's call for carbon regulation.

Source: Automotive World, 2020
If the regulations are adopted, this should trigger a new wave of innovation in the industry in favor of the environment. Fortunately, this issue is being taken seriously by policymakers. During the World Environment Day celebrations, the UN announced its plan to push for stricter carbon regulations. This could have a major impact on the future of the automotive industry. In addition, governments around the world, including the U.S. and China, are planning new policies to encourage the adoption of electric vehicles and promote the use of public transportation.
The three UN regulations 155, 156 and 157 are particularly important for all companies in the automotive industry in the coming years. They are there to ensure an international standard for cyber security and software updates. 
UN Regulation 155 addresses cybersecurity and cybersecurity management systems, while UN Regulation 156 addresses software updates and software update management systems. Finally, UN Regulation 157 addresses Automated Lane Keeping Systems (ALKS) and the security risks associated with them. These regulations provide a foundation for automotive companies to ensure that their vehicles are adequately protected against cybersecurity risks. According to the United Nations Economic Commission for Europe (UNECE), the regulations will play an important role in mitigating cybersecurity risks in vehicles as well as updating automated driving systems. Japan has already announced that it will implement the regulations, and the European Union also plans to make them mandatory. In addition, the regulations contain a number of standards that must be met to ensure the safety of road vehicles. These are taken from the ISO/SAE 21434 and ISO 26262 standards.
Former technologies of the future are already a reality in the automotive industry today
The transformation of the automotive industry is a complex and ongoing process that involves a shift from traditional manufacturing to the development of software-defined vehicles. This shift has been driven by increasing competition from new entrants, such as technology companies like Tesla and Waymo, and growing demand for electric and autonomous vehicles. Many technologies were dreams of the future for deployment just a few years ago; by 2022, many of them became real. 
In 2022, we have seen more traditional automakers invest in electric and autonomous vehicle technology, and companies such as General Motors and Ford have announced major investments in these areas. This trend is likely to continue as automakers try to keep up with the industry's changing environment and meet the demands of consumers who are increasingly interested in sustainable and high-tech vehicles.
We have been providing regular updates on the coming and ongoing changes in the automotive industry on our Magility blog for the past few years. Digitization and connectivity will play an increasingly important role, with vehicles becoming more connected and intelligent than ever before. This will lead to a shift from selling vehicles to selling mobility services as automakers seek to provide customers with a more holistic transportation experience.
Finally, the road to the software-defined vehicle is also an important topic in the industry, as advances in technology are leading to a new generation of vehicles that are more software-driven than ever before. This means that software development and engineering will become increasingly important in the automotive industry, and automakers will need to develop new capabilities and skills to keep pace with these changes.
Overall, change in the automotive industry is an ongoing process driven by a variety of factors, including technological progress, changing consumer preferences and increasing competition. 
Convergence of industries
The convergence of the automotive and technology industries is turning vehicle manufacturers into software companies. As vehicles become more connected and intelligent, the importance of software development and engineering in the automotive industry continues to grow. In addition, the importance of customer involvement in the development of services and apps is also becoming increasingly important in the automotive industry. As vehicles become more connected and intelligent, the demand for personalized services and apps that cater to individual needs and preferences will increase. This means that automotive manufacturers will need to involve customers in the development process to gather feedback and suggestions and ensure that the services and apps they develop meet the needs of their target group.
Over the course of the last year, major mergers, acquisitions and partnerships have been almost on the agenda in the automotive industry. These deals range from the very big ones, such as Ford's acquisition of Argo AI, to more niche collaborations, such as the partnership between GM and Lyft. Automakers have also been making efforts in the area of customer engagement, offering more services and add-ons, some of which are integrated into the vehicle environment. For example, Ford's new service, which makes it much easier for consumers to integrate new functions or even repairs for their vehicle. In addition, automakers are increasingly relying on customer engagement to boost sales and brand loyalty. BMW, for example, offers an "Owner's Circle" program that gives customers access to exclusive discounts, events and seminars. Volkswagen offers an "Online Owner's Manual" that helps customers navigate their car's features, decide when maintenance is due, and even set up their car's Bluetooth connection.Ford's Sync Connect app allows customers to remotely connect to their vehicle and start the engine, monitor the vehicle's status and even control climate settings. Toyota's "Toyota+Alexa" program lets customers ask Alexa to start their car, unlock and lock the doors, or flash the headlights with simple voice commands. Nissan has a "Carwings" app that gives customers access to real-time and historical data about their vehicles, such as speed, location and fuel level. The possibilities are endless as automakers continue to explore innovative ways to engage their customers.
Autonomous driving and electric drives
New features and technologies for autonomous driving have been introduced and launched, such as Tesla's full self-driving option. In addition, numerous automakers' plans have been made public, such as Volvo's to offer a Level 4 autonomous driving feature in the not-too-distant future. Thanks to new technologies and in particular the rapid development of artificial intelligence (AI), self-driving vehicles will have a steep development curve. Over time, the majority of new vehicles will be self-driving or at least have self-driving features. AI is already being used in vehicles today for functions such as automatic braking and collision avoidance. Google's self-driving cars are a good example of this. These cars are equipped with a variety of sensors that allow them to detect obstacles in their environment, such as pedestrians and other cars, and use the internal communication system to adjust driving behavior accordingly. 
Automakers are preparing to put more self-driving vehicles on the road. Ford, for example, has been testing autonomous vehicles on Pittsburgh streets for the past year. This also shows that automakers and technology companies are making great efforts to translate the technical possibilities that already exist in theory today into practical solutions.
OEM interest in the emerging electric vehicle market is also very high, with many manufacturers announcing plans to launch new e-vehicle models in the coming years.
Electric vehicle sales have continued to rise in recent years as more consumers opt for sustainable and environmentally friendly vehicles. According to our Magility research, electric vehicle sales have actually doubled in 2021, despite the economic downturn caused by the COVID-19 pandemic and increasing supply chain difficulties. This trend is likely to continue as automakers invest more in electric vehicle technology and consumers become increasingly aware of the environmental benefits of these vehicles.
EV sales doubled in 2021
More than 6.5 million e-vehicles sold worldwide in 2021
Sales growth in 2021 based on e-vehicle sales alone
Tesla has achieved the status of a mega-tech company; many new e-vehicle manufacturers followed since
The automotive industry relies heavily on suppliers to obtain the parts and components needed for vehicle production. Currently, the industry faces a number of challenges related to suppliers and their ability to deliver parts on time.
A major challenge is the shortage of semiconductor parts, which are essential for the production of modern vehicles equipped with advanced technologies. The COVID-19 pandemic has disrupted global supply chains, resulting in shortages of these critical components. As a result, automakers have had to adjust production schedules and curtail production, impacting the entire supply chain.
In addition to the semiconductor shortage, there are other challenges facing suppliers and the automotive industry. These include rising raw material costs, trade conflicts and increasing demand for components for electric vehicles.
To meet these challenges, automakers and suppliers are looking for new ways to improve the supply chain and ensure parts are available on time. This includes investing in new technologies, improving communication and collaboration between suppliers and automakers, and developing alternative supply chain strategies.
3D printing in the automotive industry
One of the technology trends that has taken hold in the automotive industry is 3D printing. Some car manufacturers are making considerable investments in the further development of 3D printing technology. Audi and also Porsche have integrated 3D printing into the production of their vehicles. By using 3D printing, long lead times in manufacturing can be reduced and manufacturers can get their models to market faster. Many automakers, including Toyota and Honda, are currently experimenting with 3D printing parts for autonomous cars. 
Batteries: From lithium to LiFePO4 and new developments
There have also been developments in battery technology that could have a significant impact on the future of the industry. First there was a lot of hype about lithium-ion batteries. Lithium-ion batteries are lightweight and easy to produce, which argues for their use in autonomous vehicles, for example. But while they may still be a good choice, automakers are exploring other battery types. This includes the use of rare earth minerals, as in lithium iron phosphate (LiFePO4). 
LiFePO4 batteries are best suited for Tesla cars because they have higher overvoltage tolerance during charging, longer shelf life, better cold resistance, and are cheaper compared to other lithium batteries. In addition, LiFePO4 batteries are safer and more stable than lithium-ion batteries, and they combine high energy density with long run times and consistent discharge voltage, making them ideal for use in UPS systems. Disadvantages of LiFePO4 batteries include low voltage rating, high self-discharge rate, lower energy density, poor performance at low temperatures, and difficulty charging in some devices. In addition, LiFePO4 batteries must be protected from overcharging and aging.
A new type of battery that uses nanomaterials to store more energy could have significant implications for the future of the auto industry. This type of battery is called a nanomaterial-based battery. It has been researched several times and is used in some applications, including electric vehicles. This type of battery has the potential to revolutionize the automotive industry by providing the necessary energy storage capacity for the entire industry. The nanomaterial-based battery could also reduce the cost and environmental impact of conventional lithium-ion batteries due to its higher energy storage capacity. In addition, this type of battery could enable the development of smaller, lighter and more efficient vehicles due to its high power-to-weight ratio.
Outlook – Megatrends in the Automotive Industry
At Magility, we have identified eight megatrends that are already having a lasting impact on the entire automotive industry and all its manufacturers and suppliers, and will do so even more so in the coming years:
OEM transformation from pure vehicle manufacturer to software company

Vehicle development towards the software-defined vehicle with use in automated driving, for applications with artificial intelligence or connectivity

Lifecycle Management – Development of various Diagnostics as a Service

Conversion to smart factories

Challenge of charging infrastructure for EV manufacturers

New requirements for battery management – with increasing sales and use of EVs

Vertical integration in EV production

Sustainability in the product lifecycle – ESG issues become essential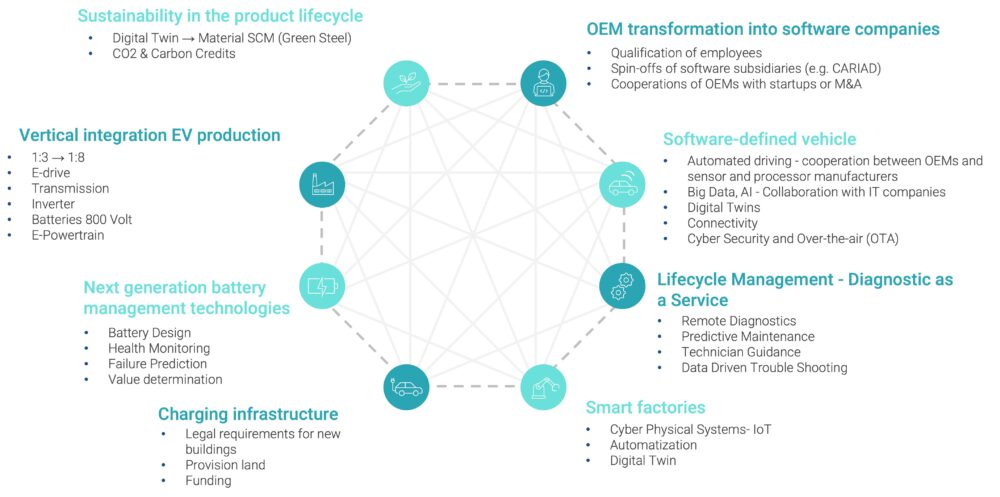 Stay Up-to-date by following us on LinkedIn.