Electric cars are the future, and they will dominate the car market in a few years. Every year, automakers expand their product lineup, setting the stage for new generations of e-cars. Today, every vehicle manufacturer is working on e-vehicles, from established players to new names like Byton, Lordstown and Rivian. The big players are focusing primarily on newly developed platforms. These are expected to contribute to significantly more variability, performance and range compared to previous generations of e-cars. However, the newly developed electric car platforms score points primarily for their increasing flexibility and savings potential, as they can serve as a basis for different types of e-cars. This variable basis will be able to be used for vehicles from the VW Group's own brand world as well as for vehicles from competitors – similar to the Modular Electric Building Kit (MEB) first introduced in 2016. 
Global industry leaders
While COVID-19 has negatively impacted markets for combustion engine vehicles worldwide, sales of electric vehicles (xEVs) have surged, particularly in Europe.
According to Roland Berger's E-Mobility Index 2021, China is currently the industry leader in the sector, producing the largest number of xEVs and battery cells. It is expected that the total production of BEVs (battery electric vehicles) and PHEVs (plug-in hybrid vehicles) will increase by 13 percent from 2018 to 2023 compared to the previous period of 2017 to 2022. Cumulative domestic battery cell production capacity calculated for the 2018-23 period is expected to account for more than 70 percent of global installed capacity: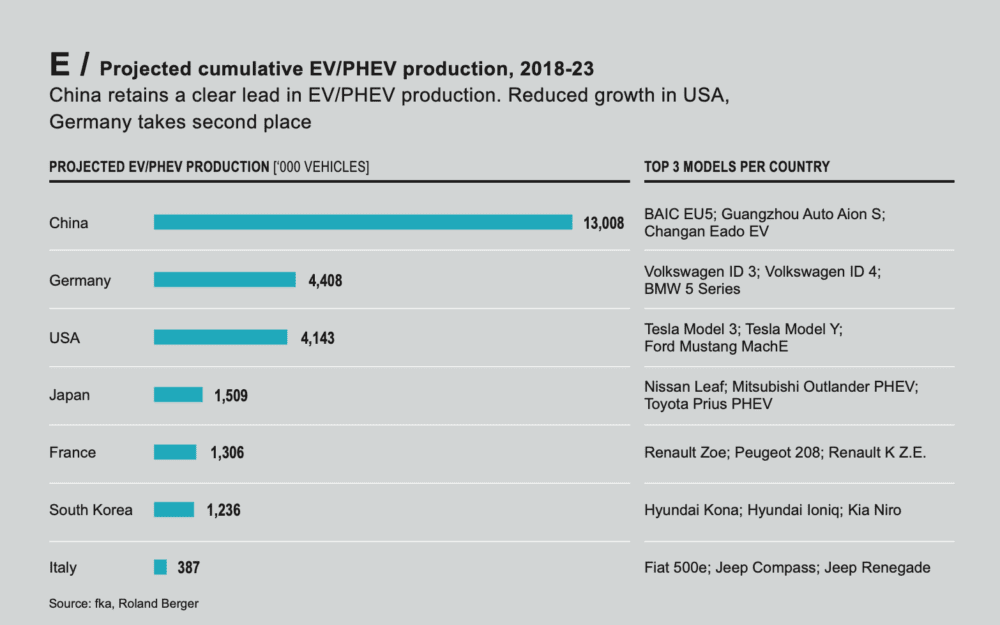 China continues to strengthen its leadership role by expanding local production capacity. German OEMs are also achieving strong growth in vehicle production, but have little battery cell production capacity, ranking only third behind the United States.
Europe saw strong market growth in the 2021 E-Mobility Index, led by Germany and Italy. Both markets achieved sales growth of over 200 percent. In Germany, sales of xEVs increased from 112,000 to more than 400,000 vehicles, meaning that Germany now accounts for the second-largest market for xEVs. In terms of BEV/PHEV market share of the overall market, Germany now even takes first place.  
Development of new e-vehicles on the rise – and helping the climate
The range of vehicles with electrified powertrains has increased massively in recent years. There is now a choice of xEVs in every segment. Many new or updated BEV and PHEV models were launched in 2020. In addition, OEMs had already increased their xEV production capacity in 2019 in preparation for the introduction of the Worldwide Harmonized Light Vehicle Test Procedure (WLTP) – a uniform standard for calculating pollutant levels, CO2 emissions, fuel consumption and range – and continued to do so during the reporting period. This means they will likely be able to meet the 95g CO2/km target for average fleet emissions in 2021: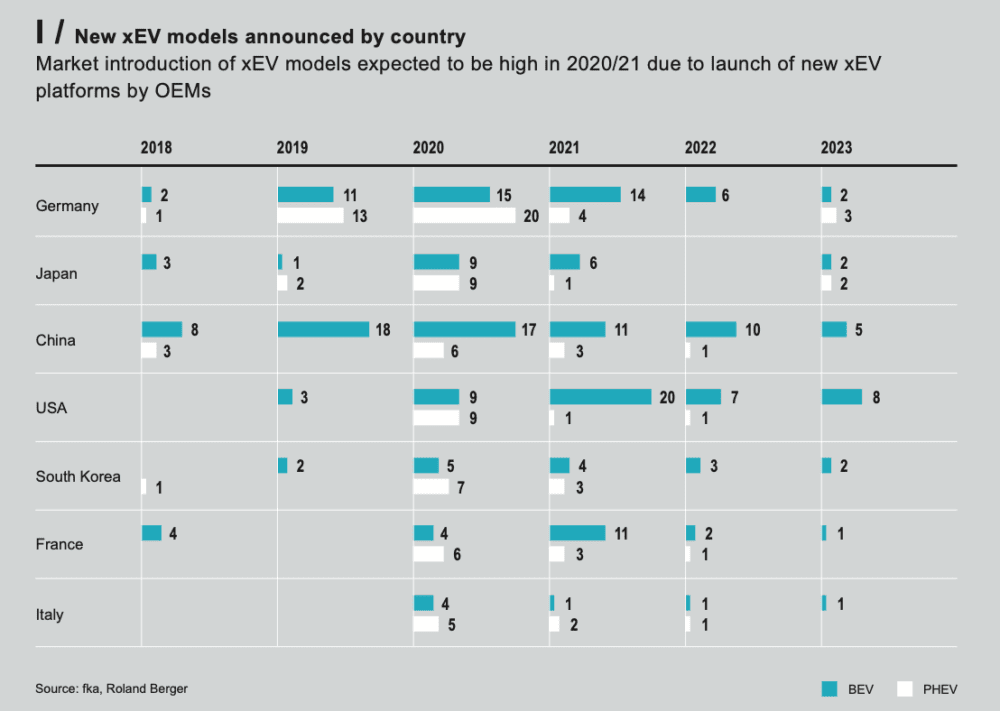 Electric base of Renault and Nissan
Renault and Nissan unveiled a new electric base last year: the CMF-EV platform. This is to be used not only across brands but also across manufacturers by alliance partner Mitsubishi. The CMF-EV platform is variable enough to serve as the basis for city vehicles, sedans, or even large SUV models that can travel long distances without stopping to charge. The Renault Mégane eVision is intended to build on the success of the Renault Zoé. With an output of 160 kW/217 hp, a battery capacity of 60 kW, and fast-charging capability, the vehicle guarantees long ranges and a versatile range of uses.
BMW's "New Class" platforms
Inspired by the successful 1500 and 1800 models of the 1960s, BMW's new "New Class" architecture brings forth platforms exclusively for e-cars. Scheduled to launch in 2025, the first model will be a sedan in the 3 Series format, dubbed NK1. The new architecture features redefined IT and software amenities, a newly developed electric drive and battery generation, and a whole system of lifecycle sustainability. It is said to be optimized exclusively for electric powertrains.
General Motors: New e-platform called "Ultium Drive".
General Motors' "Ultium Drive" multi-purpose electric underpinnings include a skateboard-like base structure with a battery made of pouch cells that sits flat and low to the ground, and drive units on the front and rear axles. Also planned are 400- and 800-volt architectures. Drivetrains consisting of five genset units will be available to represent front-, rear- and all-wheel-drive systems for passenger cars and commercial vehicles in many power levels. Because of the versatility of the new platforms, scaling effects are achievable, bringing the cost of Ultium batteries below $100 per kilowatt-hour, according to a GM forecast.
Those who prefer high performance will be well served by the roughly 1,000-horsepower new edition of the GMC Hummer EV: This one is powerful enough to reach 100 km/h from a standstill within three seconds while offering 560 kilometers of range. Thanks to 800-volt technology, recharging power for 160 kilometers is possible within ten minutes.
This most powerful version of the Hummer is already available on the market. Those who can be patient can look forward to innovations from the future Cadillac electric brand from 2022, along with other GM models: the Lyriq SUV and the Celestiq luxury sedan.
GM plans to launch more than 30 electrically powered models by 2025. So we can be curious.
Mercedes-Benz: Electric Versatility Platform
New e-platforms are also planned for the commercial vehicle sector. The Electric Versatility Platform differs significantly from the eSprinter model already available: instead of relying on front-wheel drive, the original engine compartment accommodates most of the control and charging electronics in a compact package. Instead, the drive is provided by an integrated e-axle with a central electric engine directly in the axle beam.
Would you like to learn more about topics such as e-mobility, smart grids or the Internet of Things? Get to know our colleague Jürgen Schenk – He is our top expert in the fields of electric vehicle and drive development, evaluation and design of complex systems.
We'll keep you up to date here at magility when exciting new e-platforms appear. Follow us on LinkedIn to never miss any news.