The startup industry is currently at a crossroads. Founders have long complained about how difficult the issue of financing has become. While young companies were able to quickly raise a lot of venture capital until last year, many of these founders are now facing the challenge of sustainably financing further growth. Last but not least, the pandemic and the war in Ukraine have also contributed to the increasing pressure for venture capital-funded tech startups. In Stuttgart, the national and international startup scene met for the 12th Startup Autobahn Expo Day, to discuss, among other things, where startups and the financing industry are headed in the future. 
Are the golden years for tech startups over?
Plunging share prices, waves of layoffs – the current crisis on the global markets is hitting even supposedly successful companies. Whether it's Klarna, Gorillas or Tesla, startups and large tech companies alike are currently struggling with major turbulence worldwide. Venture capitalists prefer to hold back the previously cheap money, startups are no longer looking at the next big leap in growth, but at whether they will survive the next half year. According to the tracking site layoffs.fyi, about 50,000 employees have been laid off in the startup industry worldwide since the beginning of 2022. Even in Israel, the country with one of the biggest startup scenes in the world, the big boom seems to be over. While investments in tech startups were still at $25 billion in 2021, the pace has dropped significantly this year. A trend that, by all accounts, looks set to continue. Rising interest rates, the Ukraine war and, above all, the shortage of skilled workers in the software sector are taking their toll on Israel's flagship industry. Many startups are cutting back on spending, and investors have become more selective.
And although Germany has a large network of investors and business angels, which is now also recognized worldwide, startups in the early stages in particular have found it increasingly difficult to generate sufficient capital to scale. Due to the increased risk in the early founding phase, traditional bank financing is not available to most startups – they then have to access venture capital. The German market has developed a lot for this in recent years, but in an international comparison, Germany still only ranks in the middle. The majority of financing is provided by foreign investors from the USA and Asia. And even in later financing phases, they are usually ahead of the pack; a development that is causing the current German government a major headache in terms of innovative strength and safeguarding know-how and jobs in Germany.
The startup ecosystem in Germany has developed rapidly: already in 2020, almost 400,000 people were working at a startup. By 2030, that number is expected to double. And in terms of venture capital, Germany was also ahead in a European comparison in 2021: 15 billion euros were invested in startups. If there were 25 so-called "unicorns" (startups with a market valuation of at least one billion U.S. dollars) in Germany in 2020, this number is to be doubled in Europe by 2030. The German government is working to ensure that this can be realized: Europe and Germany are to be maintained and developed as a strong tech startup location. Based on the "EU Digital Decade 2030," an initiative of the European Commission led by Commission President Ursula von der Leyen, Europe and Germany are to be made fit for the digital transformation. In addition to the implementation of digital services and the expansion of high-speed Internet in rural and urban areas, strengthening Europe as a location for start-ups is at the top of the agenda. To this end, the German government has announced a 10-point plan that is part of a consistent startup strategy:
Strengthen funding for startups

Make it easier for startups to attract talent and make employee ownership more attractive

Ignite startup spirit, make startups easier and more digital

Strengthen female startup founders and diversity

Facilitate startup spinoffs from academia

Improve framework conditions for public benefit-oriented startups

Mobilize startup skills for public contracts

Make it easier for startups to access data

Strengthen reallabs (test spaces for innovation and regulation)

Put startups at the center
This strategy is expected to be approved by the federal cabinet in the summer, followed by implementation and regular monitoring. However, it remains to be seen how the situation in the industry might have worsened by then.
The startup scene is reinventing itself
The fact that the current crises in the world and on the financial markets are preoccupying all industries was also noticeable at the 12th Expo Day in Stuttgart, which finally took place again this summer on site at the Wizemann Areal in Stuttgart. There, more than 1,000 interested people and 27 startups met on three stages to exchange information about current projects and future topics. Startup Autobahn powered by Plug and Play is an open innovation platform for tech startups from the automotive, mechanical engineering, health and enterprise industries, with now more than 30 renowned industry partners (including Mercedes-Benz, Webasto, Bosch or Deutsche Post). The aim of the Accelerator is to develop joint pilot projects, which are then presented to the general public at the Expo Day, which takes place twice a year.
The focus of the opening keynote by Ola Källenius, head of Mercedes Benz Group AG, was "Transformation and Innovation at Mercedes Benz" with two major challenges: Decarbonization, i.e. achieving CO2 neutrality, and digitalization in the vehicle. With the development of the Vision EQXX concept vehicle, he said Mercedes is at least 10 years ahead of the industry, which is committed to a holistic overall approach to CO2 reduction in the supply chain, production and the vehicle itself. He predicts a 100% electric future for the Stuttgart automaker, which should become a reality by the end of 2030 at the latest. On the subject of the digitized vehicle, Källenius spoke about the coexistence of software and hardware and the immense potential for innovation in this area. Here, innovation often comes through cooperation – many tech startups were also involved in the Vision EQXX, which developed from pilot projects at Startup Autobahn, such as UBQ materials from Israel or Ventus from Stuttgart. "Efficiency is the new currency of the EV area," Källenius says, and this can only be realized by challenging the status quo as often as possible.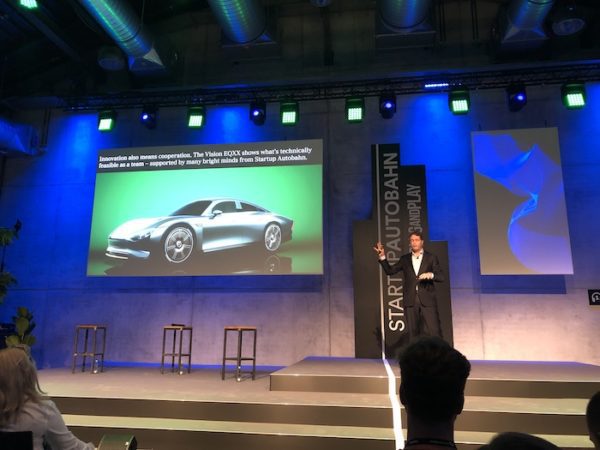 Tanja Rückert, CDO at Bosch, talked about the fact that collaboration with tech startups brings great benefits for both sides in her panel. Of course, the strategic fit must first be clear, especially from the customer's point of view. But what concrete advantages do startups and companies have when they join forces strategically? For startups: resources, processes and scalability, for companies: Agility and streamlining of innovation cycles.
Saori Dubourg (MoB BASF) brought a completely new perspective on sustainability in startup financing to the stage in her presentation "The future needs a better design". Until recently, the goal was to invest as much as possible ("volume") – in the future, the focus, in all areas, but also in financing, is on the sustainable use of resources ("value"). Worldwide, investments in ESG funds have risen to an incredible 2.57 trillion US dollars – so future investment strategies will focus more and more on social and environmental benefits, rather than purely financial growth.
The women-only panel, led by Natascha Zeljko, Co-Founder and Chief Editor at F10 FemaleOneZero & CURAZE, focused on how much opportunity the current crisis brings. The central question was: How many companies have really understood that constant change and continuous questioning of the status quo is essential for business success? Prof. Dr. Katharina Hölzle (University of Stuttgart & Fraunhofer IAO) argued that the understanding for change is now there, but the radical implementation of it is still not happening in many companies. The younger generation in particular has already internalized the idea of transformation. However, it is now the task of schools and universities to provide these people with the tools for implementation. Katharina Hopp (Bosch) made it clear that innovation is the only way out of crises. Especially as a hardware manufacturer, Bosch is forced to enter into strategic alliances with software startups. When it comes to diversity in the startup scene, women are still underrepresented, she said. They need to become more visible, network better and, above all, find role models. Nicole Büttner (Merantix Momentum) mentioned here the entrepreneur and founder Verena Pausder, who together with five other female entrepreneurs recently announced her investment in the women's team of the soccer club 1. FC Viktoria 1889 Berlin. Their goal is no less than to change the German sports world for good.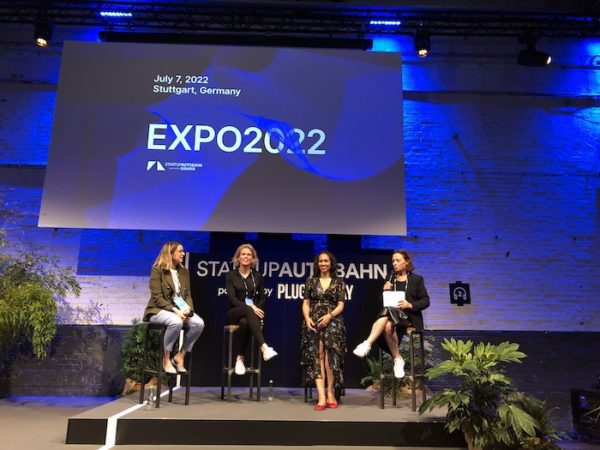 Our conclusion of the day:
the capital in the market is still there, and needs to be distributed

it's "back to the basics": in the future, only tech startups whose ideas are really good and also sustainably successful will be able to persist

a crisis is the best time to start a company

The speed of financing rounds will slow down from about 18 months to 24 to 30 months.

Diversity in companies needs clear structures, role models and KPIs
To drive innovation in your own company, it is worthwhile to collaborate with suitable startups. At magility, we help you make the right contacts in our international tech startup network. Contact us now – we'll be happy to answer your questions. 
Follow us for more news also on LinkedIn. We are looking forward to meeting you there!